Submitted by

rayvan

on Thu, 04/26/2012 - 02:01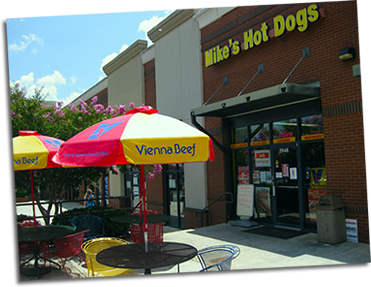 Mike's has been a fixture of Sandy Springs since 1996. Our success is an easy formula, we only buy the best quality Vienna Beef dogs. None less will do.
Although there are many places that serve these tubesteaks, there are only a few that have stuck with the more expensive, but worth it, Vienna Beef brand. Mike's buys most of it's menu items from Chicago companies. We use Gonella Bread for our Italian beef, and specialize in "Chicago Style" dogs. Right down to the celery salt.
Many of our customers have expressed a desire to have our dogs delivered to them, so Mike's also has available a tabletop cart catering program. It's perfect for the office or home. Please see our catering page about this.
From Creative Loafing - Best of Atlanta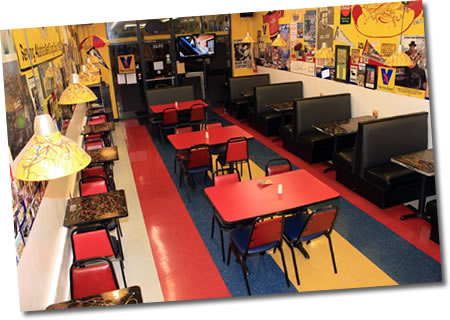 MIKE'S CHICAGO DOG HAUS: With an interior as bright yellow and red as cheap mustard and ketchup, Mike's Chicago Dog Haus is as much fun to look at as its mountainous sandwiches are to eat. I refer, of course, to the famous Chicago Dog made with the equally famous "Vienna 100 percent Pure Beef Hot Dog." Mike's turns out an exemplary example. This is no mushy, tasteless wurst, its blandness undisguised by second-rate relish. The Chicago Style Dog is a paragon of the type, enhanced by freshly minced onion and a light relish. In addition to both mustard and ketchup slathered on a steamed poppy seed bun, the dog is topped with an entire pickle spear -- a good 5 inches long -- and the final kick of a dash of celery salt and a small hot pepper. (Look before you bite!) And this, mind you, can be ordered as a double, which is still not as big as The Works ("need a fork to eat it"). Craving something gooey and goopy and dripping with character as well as with chili, slaw, kraut and grilled onions? This is the place: Chili Dog, Slaw Dog, Chili Slaw Dog, Cheese Dog, Chili Cheese Dog, Kraut Dog, Stew Dog (as in Brunswick), Corn Dog, Plain Dog and the Veggie Dog.
5948 Roswell Road in Hammond Square shopping center, Sandy Springs.
Atlanta, GA
404-252-8484
Hours of Operation:
Monday
Tuesday-Saturday
Sunday
11:00AM - 6:00PM
11:00AM - 8:00PM
12:00PM - 6:00PM